Spring Flooding Prevention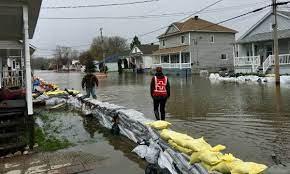 Saskatchewan winters seem to last FOREVER, then in an instant, it goes from - 30 to +3 and the melt is on. The cold weather may be back, and we may get more snow, but for now it feels like a much deserved break either way.
With the beautiful temperatures, comes the sunshine, shorts, sandals and… flooding. As much fun as it can be splashing in puddles with the kids, it is the opposite of fun if that water makes its way inside your home or basement.
The best treatment is prevention. What can we do to stop that pesky water from coming in?!
If you have a sump pump - check it! Make sure it is plugged in and working properly.
Shovel snow 6' from your foundation so it melts away from your home, not towards it.
If water starts to stand close to the house, make trenches to get it to run away from the house, or use a pump to pump  it away from the house.

Clear out the downspouts from ice and snow, and make sure eavestroughs are draining 6' away from your home's foundation.

Make sure your window wells are empty of snow and water.

If you don't have a backwater valve, it is a GREAT idea to get one. Backline water valves can help prevent sewer back up if there is extra stress on your public sewer system due to it being more full than usual with the spring melt.
Insurance policies with Water Protection or Sewer Back Up Coverage are designed to cover you if a sudden and unexpected flood happens – but it does NOT cover Seepage. If there are cracks in the foundation, and the water slowly seeps in… the damages will not be claimable under your policy.
We touched on what is not covered, so let's understand what IS covered under Water Protection or Sewer Backup Coverage.
Surface Water – when water on the surface of the ground enters suddenly through a point, at the surface ground level or above the surface ground level.

Flood – when damage is caused by the rising of, breaking out or overflow of any body of water. 

Ground Water – damage to the home caused by water entering the home beneath the surface of the ground. Coverage will be provided only when it's sudden and accidental, and it happens at the same time as a flood or surface water incident. (AKA not seepage)

Sewer Backup – when water or sewage is suddenly and accidentally discharged or escaped from the sewer, sump or septic tank.